Abu Dhabi is full of great cafés, both old and new. If you enjoy café culture, beautiful locations, and taking pixel-perfect food photos for Instagram, this list is for you. We have every kind of pretty best Abu Dhabi café you could want, from artsy to beachy to whimsical.
 Here are some of the latest additions to the Abu Dhabi café scene.
Cyber Café
The best Abu Dhabi Café, Cyber Café is ideal for remote working, chilling, gaming, watching sports, and playing board games with friends all that while enjoying your favorite meal, snack, sandwich, salad, or dessert with a side of coffee or tea.
On the other hand, the game room filled with unique and rare games such as special VR machines, PS5 and Xbox x, a multipurpose table suited for billiards, ping pong and air hockey gaming, unique flipper & arcade machines. if you are looking for Cyber Café near me then must visit Cyber Café Abu Dhabi.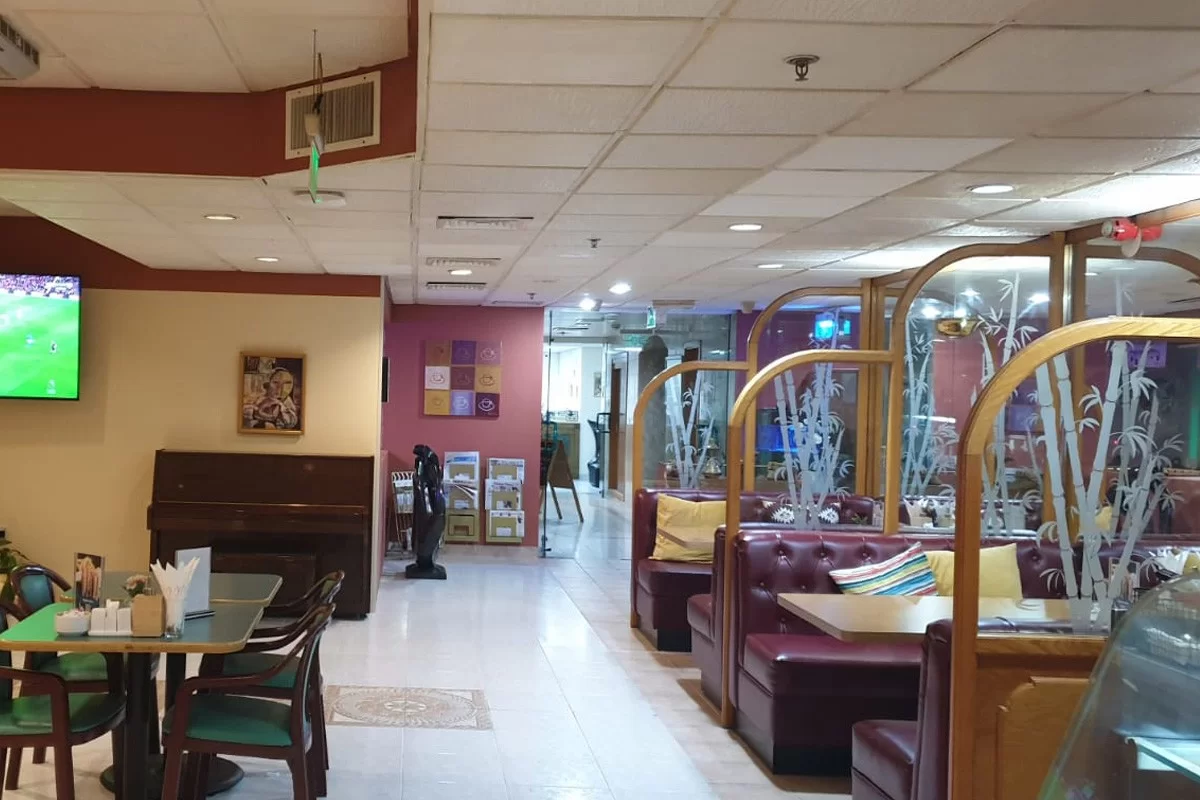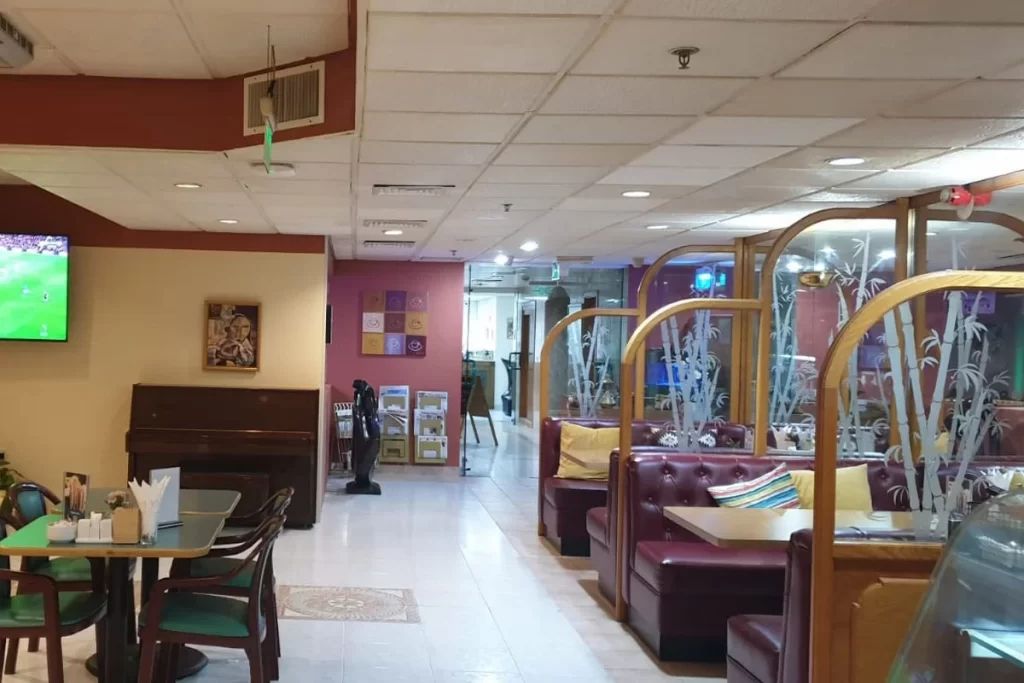 Visit at: cybercafe.ae
Tasha's Café
Natasha Sideris' café empire is one of the most well-known in the UAE, with branches throughout Dubai and one in Abu Dhabi's Al Bateen Marina. The wood decked, al fresco terrace and neutral-hued inside space flooded with natural light on the waterfront. At Al Bateen Marina are both beautiful spots to enjoy the long list of flavorful all-day. Breakfast dishes of colorful omelets, toasties, and bowls as well as a menu of yummy tapas plates like grilled calamari, spicy prawns, and halloumi bites.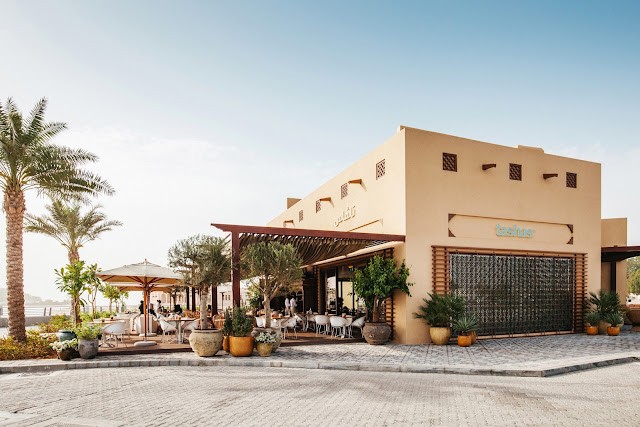 Rain Café
Locals prefers Homegrown Rain Café, so you know the coffee is good. It's a specialty coffee shop that focuses on making the perfect freshly brewed pours, but it's also known for its hearty breakfast menu, colorful bowls, and punchy, packed sandwiches. Rain will soon open branches in Yas Mall and Al Ain, also in the Corniche Area – Sea Tower and Mohamed bin Khalifa St. It is also the Best Abu Dhabi Cafés. The décor is always cute, no matter where you go. Try the kunafa cheesecake, or try a rose latte as a pretty twist on your usual coffee.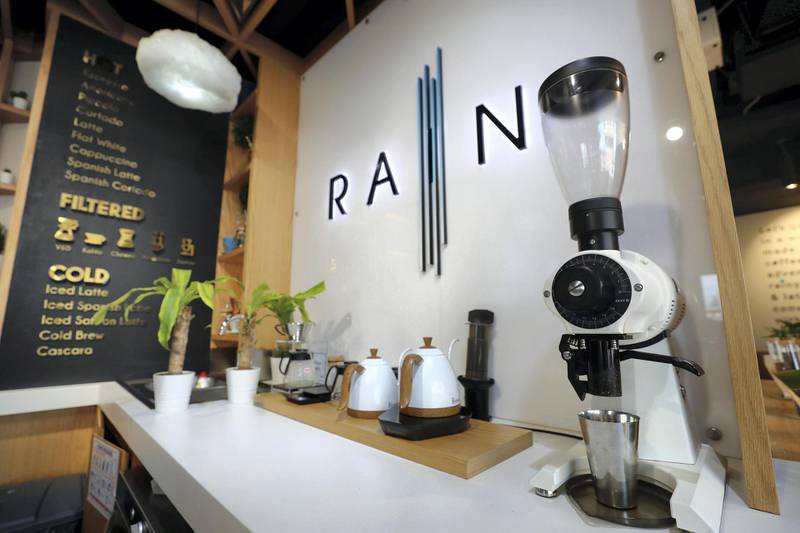 Aptitude Café
Aptitude Café, another lovely spot for a coffee by the water, also has a view of the Louvre Abu Dhabi. This Zen spot, with plenty of greenery, swaying palms, and indoor and outdoor seating, is a great place to visit before or after visiting the exhibit at the Louvre Abu Dhabi. If you're looking for a light bite to go with your coffee, we recommend the country Greek salad with cucumber, tomato, olives, onion, and feta (Dhs48). For Dhs80, you can get a steak sandwich with grilled fillet mignon, onion marmalade, and Emmental cheese. Sky, water, and the stunning Louvre Abu Dhabi – it's even more beautiful in pink during an Abu Dhabi sunset.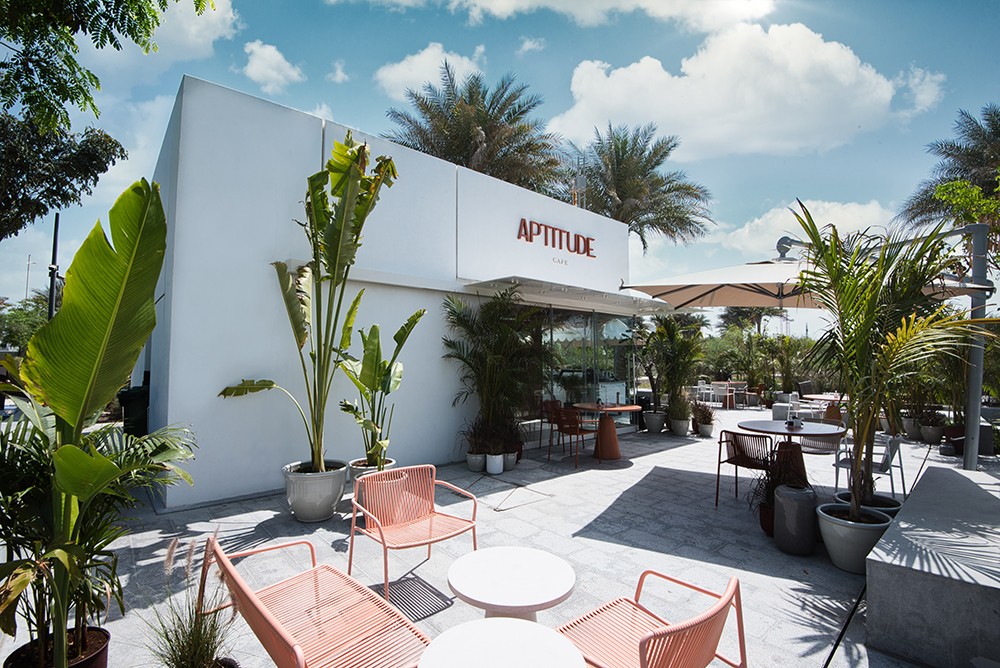 Brunch & Cake
Aaah, how can't we adore a delightful brunch of Abu Dhabi Café, Brunch & Cake. This picture-perfect spot in Al Bateen Marina is undoubtedly one of Abu Dhabi's most beautiful cafés. With sunlight streaming in from the glass terrace, pastel pinks, yellows, and cream colours create a soothing environment.
Cuddle up in one of the welcoming nooks or relax in a casual lounge chair while sipping coffee and reading or catching up with a friend. The decor is lovely, but the food is equally so, with eggs benny on a charcoal waffle for Dhs75 and zucchini blossoms with mushrooms, pesto mayo, parmesan and mozzarella cheese for Dhs65, to name a couple of highlights. You may come for brunch, but don't forget to bring the cake.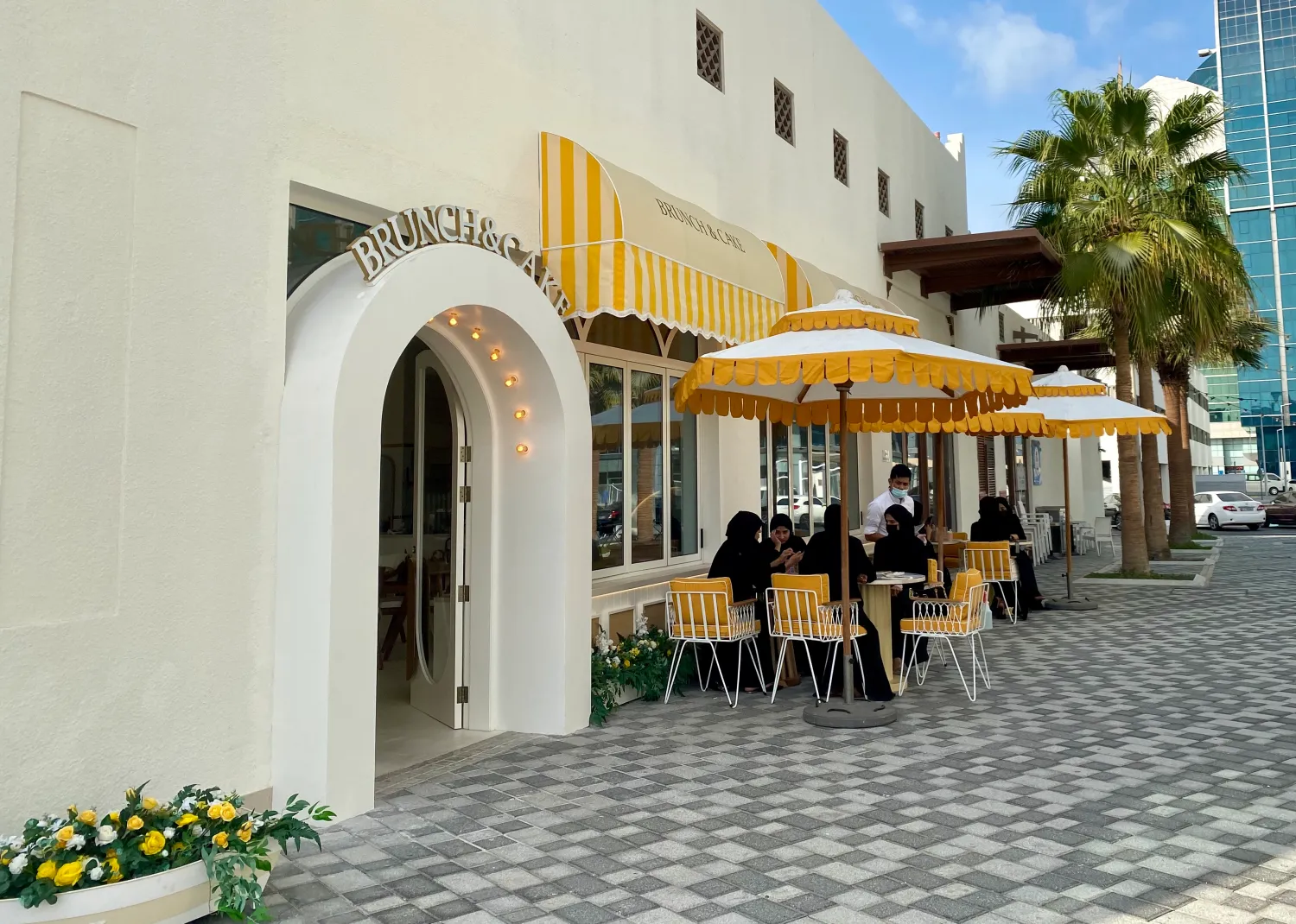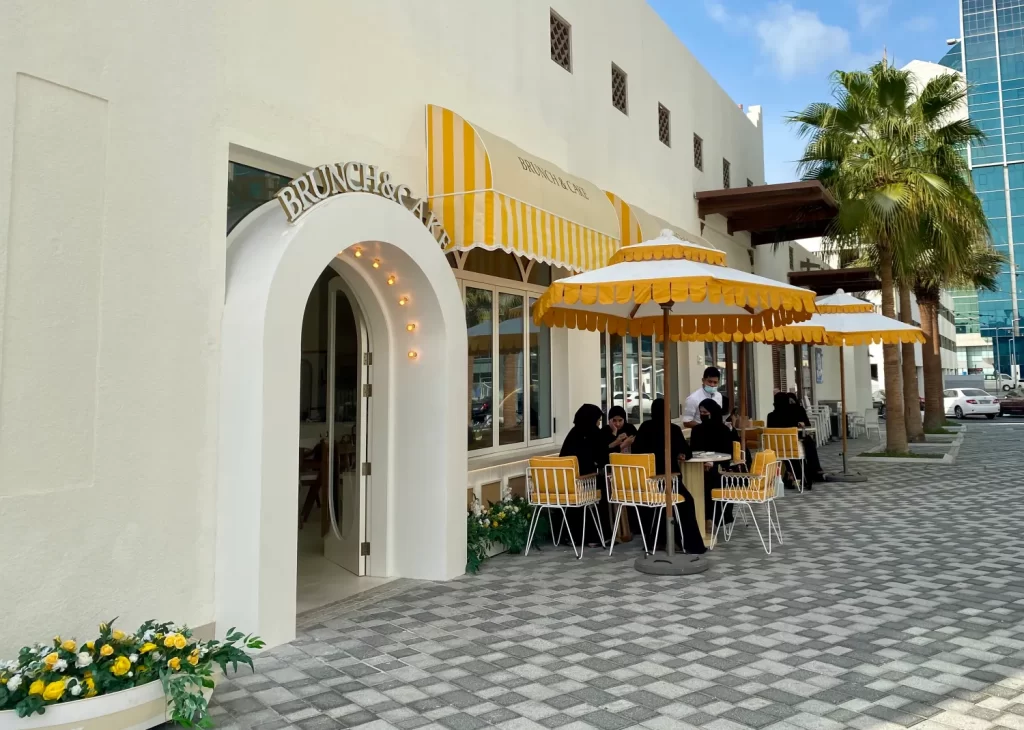 Montauk Boutique Café and Restaurant
Look no further if you're looking for luxe beach house vibes akin to those found in The Hamptons. Montauk Boutique Café and Restaurant offers a photogenic menu of carefully crafted dishes and desserts, as well as a lovely ambiance that makes you feel as if you've just stepped off the beach.
Despite being in the heart of Al Bateen, you can practically smell the sea breeze at this café. For Dhs65, we recommend the avocado and beetroot cheese toast, which comes with toasted sourdough, smashed avocado, beetroot and cheese emulsion, feta, and pine nuts. A lovely purple dish for a lovely setting. The coffee is also delicious.
Alkalime Café
Saadiyat Island is no doubt one of the most beautiful places in Abu Dhabi, and Soul Beach is stunningly beautiful. So it stands to reason that one of Abu Dhabi's most beautiful cafés would be located there. Alkalime is a feel-good restaurant that serves nutritious, tasty, and well-thought-out dishes.
We recommend the smashed avocado with pomegranate seeds, if you're there for breakfast. The vegan Cauli-pizza is also out of this world. With boho-chic décor and huge windows that look out to the sky and wate. The restaurant manages to bring the tranquil beach vibes inside. A truly lovely café experience, especially if you save time for a stroll along Soul Beach afterwards.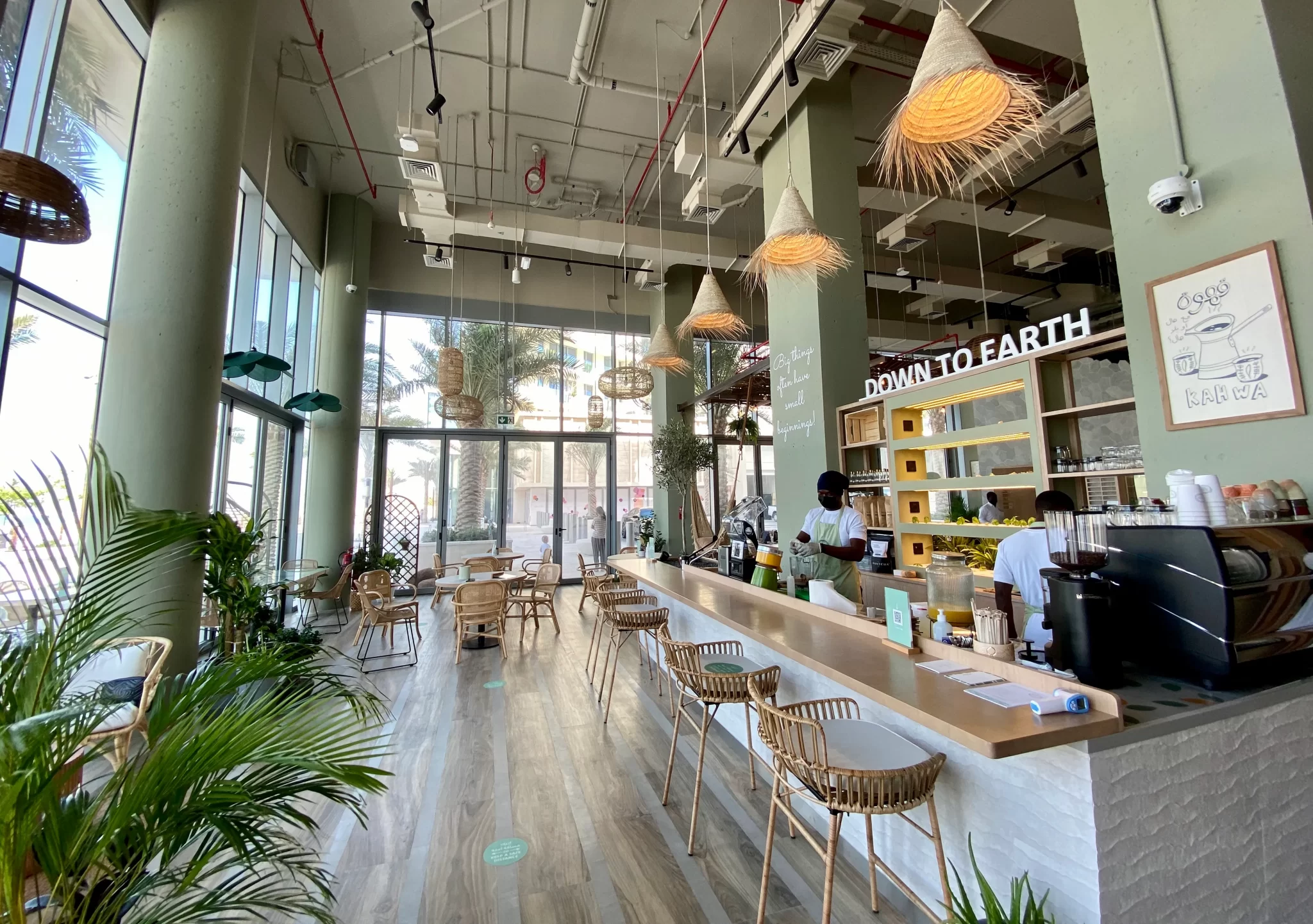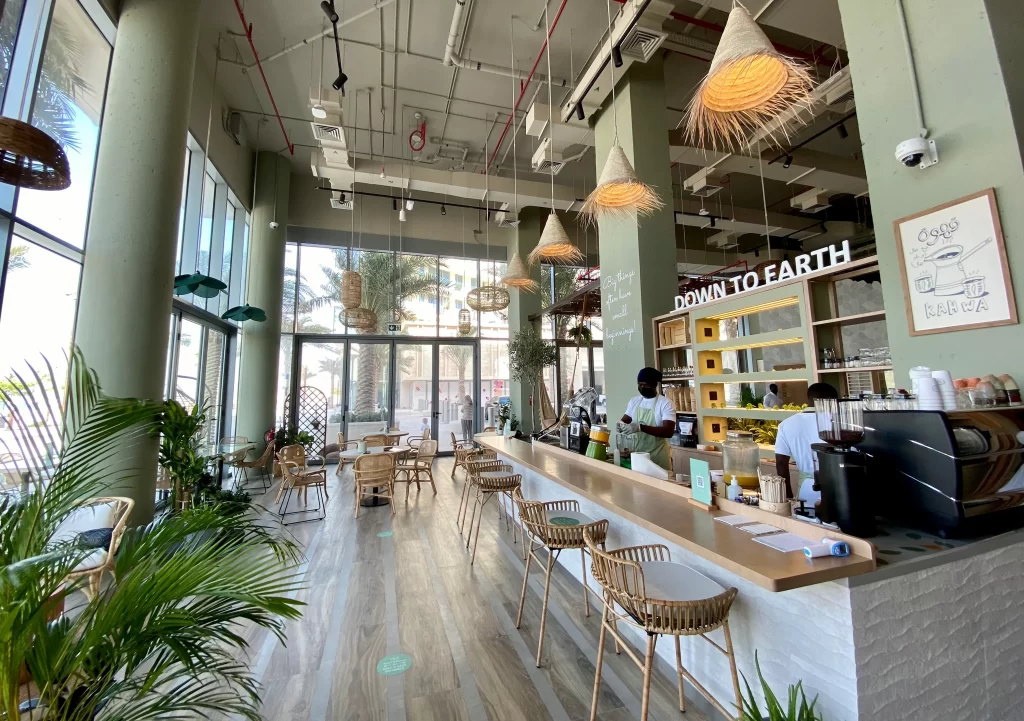 L'ETO Café
L'ETO's Eye – catching decor and perfect plates of popular breakfast dishes have made it one of the most popular Abu Dhabi Cafes. with branches in Dubai and Abu Dhabi. Less about the coffee and more about the cakes, the freshly baked sweet treats served up at this London-born coffee shop will satisfy any sweet tooth.
Visit at: letocaffe.ae 
Tawa Bakery
Tawa Bakery, a unique hundred percent gluten-free bakery and café founded on the belief that eating gluten-free should never mean sacrificing taste or quality, stands out on Abu Dhabi's café scene. Gluten-free all-day breakfasts, including a moreish French toast, are available, while bright salads, burgers, and pizzas provide more substantial options.
Visit at: tawa.ae
Sanderson's
Sanderson's, helmed by Serg Lopez, formerly one half of Dubai's ever-popular Tom&Serg, is one of the coolest Abu Dhabi Cafes. And a must-try spot for a casual catch-up.
Tropical smoothie bowls, fully loaded toasts, and eggs cooked in endless ways make Sanderson's one of the coolest Abu Dhabi Cafés. And a must-try spot for a casual catch-up. It has a Mediterranean vibe, with eye-catching fauna falling from the ceiling. A soothing palette of varying shades of white, plush cream sofas, and wicker chairs.
Visit at: wearesandersons.com